Please consider donating any amount to help our club operate and work with youth and give scholarships to those seniors who qualify. All donations are tax-deductible
FOR FISHING VIOLATIONS CALL DEC DISPATCH AT 877 457-5680
Meetings are held on the third Thursday of the month at the West Endicott Fire Station 2nd floor, 113 N. Page Ave. Meeting at 7 pm. There is no elevator. Check the calendar for changes. Parking must be on the street. We now have a table to sell your fishing items or donate to the club. Bring items you want to clean out. The table will be active throughout the meeting starting at 6:30 pm.
The BC Flyfishers Chapter will raffle a 10th Anniversary Special Edition custom-built fly rod to honor its 10th year as a chapter. This rod will be built with a premium blank and components and will be customized according to the raffle winner's choices. This includes, but is not limited to the following:
Blank manufacturer. Among some of the premium fly rod manufacturers who sell blanks are the likes of Sage, Thomas and Thomas, McFarland Rods, and Northfork Composites (NFC).
Choice of blank material, including high-end carbon fiber/graphite, premium glass, or bamboo, and even linen, a new proprietary material similar to bamboo.
Choice of rod length/pieces – this can range from a one-piece fly rod (yes NFC actually sells one-piece blanks), to a 2, 3, or 4-piece or even a travel rod (5+ pieces). Length is wide open from as long as 11+ feet to as short as 6 feet for blue line fly fishing.
Choice of action from slow to extra fast.
The choice of thread wrap color and accents is unlimited.
Guide type – single foot, double foot, recoil, etc., as well as choice of finish (chrome, nickel, titanium, black, etc.).
Guide choice for saltwater use if this is desired.
The grip type will be premium Flor cork or carbon fiber with a fighting butt available for fly rod weights over 6.
Reel seat choice is unlimited – inserts ranging from carbon fiber to all types of hardwood, or even aluminum for saltwater builds. Choice of down-locking or uplocking seats and hardware finish to match guides.
Choice of measuring wraps as well as unlimited custom marking for the butt section above the foregrip.
While the big-name manufacturers sell some beautiful fly rods, you can't have them "your way". This is an opportunity to build the fly rod of your dreams and one that carries the recognition of celebrating a great FFI chapter!
Tony was a member of our club and was involved in our activities and fishing adventures.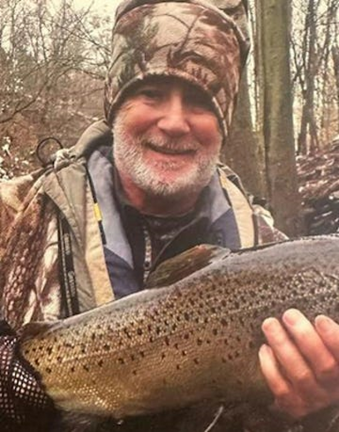 Anthony (Tony) Massar was born in Binghamton NY. He passed unexpectedly on August 18, 2023. He was preceded in death by his parents Joseph and Genevieve Massar and brothers Infant James and Joseph. He is survived by his siblings Mary Ann Massar, Angela Nemconsky and James (Jack) Massar, nephews and nieces Joseph and Trish Massar, Jeff "Woodrow" and Kristen Wilson, Lisa Wilson, Jeannie Nemconsky, Anthony and Kara Massar, Kimberly and Kevin Collins, his 96 year old aunt Connie Caldwell in Medina, NY as well as several cousins, great nieces and nephews, great great nieces and nephews and friends.
Tony graduated from Binghamton Central, Broome Community College and LeMoyne College. He was a labor relations specialist working in several states which fueled his passion for the outdoors. Tony was a former Binghamton City Councilman for 8 years and was involved in many local projects. He was a proud "First Warder" and an avid fisherman and hunter. He was a self proclaimed expert in fly fishing, traveled with his fly fishing club and would tell anyone who would listen about his excursions. He referred to the outdoors as his piece of Heaven.
Tony was always active. Through his mentor, Hidy Ochiai, he earned his black belt certification in karate. He also loved to golf, tell jokes and tease.
Visitation………"A heart is not judged by how much you love, but by how much you are loved by others"-The Wizard of Oz.
Published in Press & Sun-Bulletin
Call 1.406.222.9369
Our Mailing Address
712 Elm St.
Endicott NY 13760
bcflyfishers@yahoo.com
UPCOMING EVENTS FOR DETAILS GO TO THE CALENDAR