Meetings held on the third Thursday of the month at the West Endicott Fire Station 2nd floor, 113 N. Page Ave. with fly tying starting at 6:30 and general meeting at 7 pm. There is no elevator.
Parking must be on the street.
FISHING VIOLATIONS CALL DEC DISPATCH AT 877 457-5680
Club email: bcflyfishers@yahoo.com
If using a cell phone to view the headers on this site, you may need to click the 3 bars at the top and some headers may not show up but are under the other ones and will show up when you highlight the area.
SEE YOU IN SEPTEMBER, BE SAFE!
Gary Romanic will be offering single handed spey rod lessons to the public and members of the BCFlyfishers.  The members of the BCFlyfishers will receive a 25% discount if their membership is current.  They don't need to purchase a spey rod!  Their single handed fly rod will be adequate to make the casts. Anglers do not have to make an investment in a two- handed rod.  There will be three sessions, one morning per week for three weeks..  The time, place and cost will be determined.  You can inform the public via Facebook if you desire. This will be a wonderful opportunity to learn how to overcome rear stroke structure, break the aerial cast monotony and swing flies without wasting energy.
If you have any questions, email me garyromanic70@gmail.com
THE WINNER OF CUSTOM ROD DONE BY ROBERT BRUNS, Dave Thomas.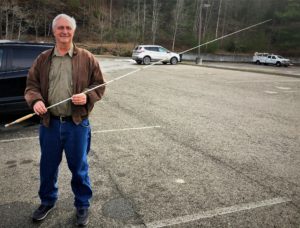 If you have come to our page using the QR Code, please visit our site and enjoy your time here….
Our Mailing Address
712 Elm St.
Endicott NY 13760
bcflyfishers@yahoo.com
UPCOMING EVENTS FOR DETAILS GO TO CALENDAR