Meetings held on the third Thursday of the month at the West Endicott Fire Station 2nd floor, 113 N. Page Ave. with fly tying starting at 6:30 and general meeting at 7 pm. There is no elevator.
Parking must be on the street.
FISHING VIOLATIONS CALL DEC DISPATCH AT 877 457-5680
Club email: bcflyfishers@yahoo.com
If using a cell phone to view the headers on this site, you may need to click the 3 bars at the top and some headers may not show up but are under the other ones and will show up when you highlight the area.
Hello Fly Fishing Enthusiasts,
BC Flyfishers next general meeting will be Thursday September 22, 2022. Water and Coffee will be provided.
Meetings will be held upstairs in the West Endicott Fire Station on 113 North Page Avenue. Please be aware that the station does not have an elevator and that Parking must be on the street and not in the fire department parking lot.
Thursday September 22, 2022, West Endicott Fire Station, 113 North Page Ave., Endicott, NY; 7:00 PM.
Speaker: John Shaner, "Fishing in Northern England + Hardy Reel Factory tour"
John has a brand new presentation about fishing in Northern England, specifically on the rivers of Yorkshire and Cumbria and the surrounding area. He will focus on the diversity of water, some of the techniques, the beautiful countryside, the quaint towns and some interesting people. The talk will certainly be punctuated by many of John's quaint stories so don't miss this event.
John has represented Hardy for many years and will also present a photo tour of the Hardy reel factory.
John has many years of guiding experience, especially in Montana and points west. As a retired guide, John became a representative for many well know fly fishing companies (Orvis, Cortland, and Hardy, to name a few). John is an excellent and knowledgeable speaker and you will not want to miss his presentation. John and his Sister own and manage Laurel Bank Farm (a sleepover and event destination) located on 500' of prime trout water on the West Branch of the Delaware River in Deposit, NY.
 WINNER OF CUSTOM ROD DONE BY ROBERT BRUNS, Dave Thomas.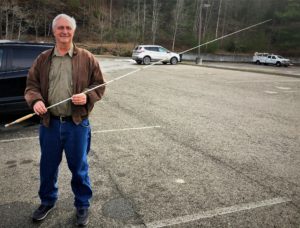 If you have come to our page using the QR Code, please visit our site and enjoy your time here….
Our Mailing Address
712 Elm St.
Endicott NY 13760
bcflyfishers@yahoo.com
UPCOMING EVENTS FOR DETAILS GO TO CALENDAR